Folk singer Noel Murphy jailed for 1970s sex attack on tour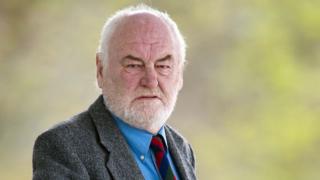 A folk singer who sexually assaulted a girl while on tour four decades ago has been jailed for 18 months.
Noel Murphy, 74, attacked his victim, who was 11 or 12 at the time, while touring north Wales in the 1970s.
Mold Crown Court heard she "lost control of her life" after her ordeal and had even contemplated suicide.
Murphy, who admitted three counts of indecent assault, had a minor UK hit in 1987 with the novelty song Murphy and The Bricks.
As well as the prison term, Ireland-born Murphy will be on the sex offenders register for the next 10 years.
The musician, who was once part of the band Murf and Shaggis, toured UK folk clubs in the 1960s and 1970s but quit music in 2005 due to health reasons.
In the late 70s, he appeared at a folk club in north Wales and was staying in the area.
The court heard that Murphy sexually assaulted the girl while "drunk" - in an attack that was described as "opportunistic".
The girl told her mother immediately, but her family decided not to report the matter.
She finally reported the abuse in 2016 after realising she "had to confront it", the court heard.
The woman later suffered from depression and felt angry at what had been done to her at such a young age.
Murphy, of Mullion in Cornwall, initially denied any wrongdoing.
However, on the day of his trial was due to start he changed his plea and admitted three charges of indecent assault.
Deni Matthews, defending, said Murphy was a man of good character who was approaching 75 and cared for his severely disabled daughter.
Mr Matthews said: "His reputation is in tatters. His previous life is no longer open to him."
However, despite defence pleas for a leniency, Judge Nicolas Parry said the offences were so serious that an immediate custodial term had to be passed.
Following the conclusion of the case, North Wales Police said the victim had showed great courage and bravery in coming forward.
Det Con Arwel Thomas said : "No matter how many years have passed we pursue those who commit such crimes and will bring them before the courts."