Pay protest outside Deeside's Parc Arfer construction site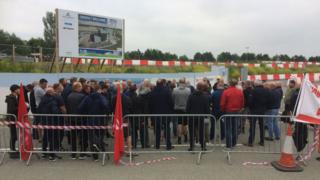 Around 100 people are staging a protest outside a waste treatment construction site in Flintshire over what they claim are unfair wages.
Workers from the Unite and GMB unions are protesting at the Parc Arfer site on Deeside Industrial Park.
North Wales Police has advised motorists to avoid the zone four area.
Workers say they are being paid up to 63% below an agreed standard, but CNIM, the company building the park, has said these are "erroneous allegations".
A spokesman for the North Wales Residual Waste Treatment Partnership said while it was not responsible for contracting arrangements for the construction of the site, it was "facilitating and encouraging contact with the unions".
It has invited the trade unions to share specific concerns for an open dialogue with the companies involved.
Workers have previously taken action over employment of local workers at the site.