Lixwm Primary School saved - but at what cost?
By Gwyneth Rees
BBC Wales News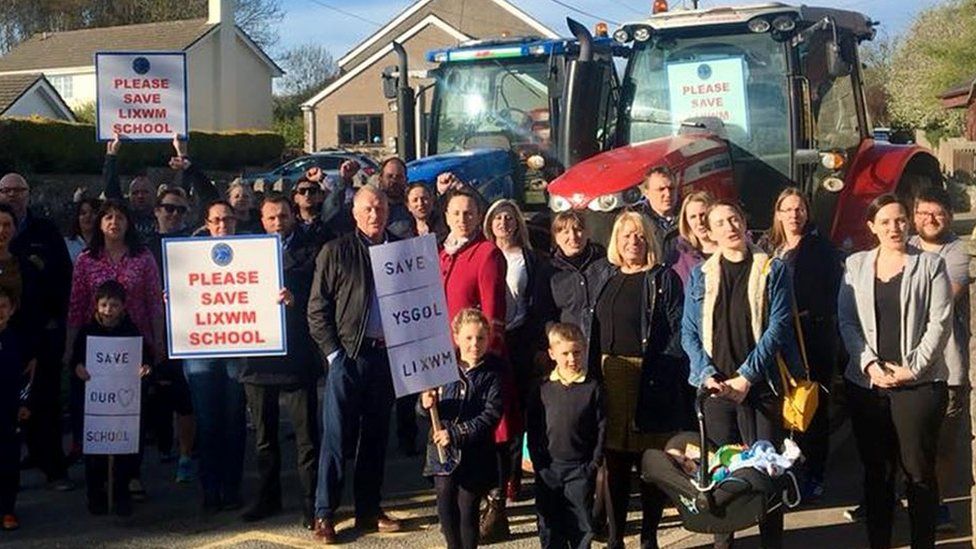 In the small village of Lixwm, in rural Flintshire, parents are celebrating.
Following a two year struggle, they have saved their school from closure, after forcing Flintshire County Council into a last-minute U-turn.
It's a triumph for the parents, many of whom never thought they could win such a David and Goliath battle.
Yet their jubilation is bittersweet.
For the campaign has been one that has ripped the community apart, leaving those that used to drink, pray and mingle together bitterly divided.
Resident Lisa Miller said: "This area used to be very friendly and united. The kids even used to have a joint football team.
"But this has been such a protracted and stressful period.
"Hopefully now we can start to rebuild the bridges that that this divisive process put both communities through."
Trouble began in 2016, when Lixwm Primary School was earmarked for closure after its numbers fell to the current 59 pupils, with 21 empty places.
Flintshire council suggested its pupils could instead attend the slightly bigger Brynford Primary School (Ysgol Brynffordd), just 4km away.
But the parents of Lixwm were in uproar, with protests mounted, often accompanied by an array of colourful tractors.
Ms Miller, who sits on the board of governors at Lixwm school, added: "We were desperate to save the school. It's been here for 170 years and is the heart of our community.
"We had already lost a post office and a shop. If we had lost our school, then what would we have left?"
Instead, a plan was proposed to amalgamate both schools to form a federation.
This would mean both schools would be kept open in existing buildings - but sharing one head teacher and a board of governors in a bid to cut costs.
Most parents of Lixwm supported this plan.
But in September 2017, Brynford's board of governors voted to reject the proposal, seemingly sealing Lixwm's fate.
According to council minutes, Brynford decided to reject the plan as they saw the closure of Lixwm as a chance to expand their own intake and gain finance for their own buildings, which were in a poor state.
The row then escalated, spilling over into neighbourly relations.
Such was the feeling of betrayal on the ground, some residents of Lixwm began avoiding the local shop, Brynford Stores, as it is run by Jean Davies, one of the governors from the Brynford school.
Tony Griffiths, the landlord of The Crown pub in Lixwm, described the atmosphere as "tense".
And on a community Facebook group, seen by the BBC, emotions began running high.
One Lixwm resident wrote how they would be "voting with their feet" and not sending their children to "a school that's closed theirs".
Others accused Brynford parents of being "selfish" - while Brynford parents hit back, accusing Lixwm parents of "playground behaviour" and saying the decision was "out of their hands".
Resident Rebecca Blackwell said: "Over the past two years, people have been using social media for spats.
"I had a good friend in Brynford, but when she saw what others in Lixwm were writing about her community, she just said, 'stuff you, if you all think like that, I want your school closed'.
"We haven't spoken since.
"It's amazing that the school has finally been saved.
"It's great for rural Wales and the regeneration of our community, but this whole period has been very frustrating and upsetting."
Another resident, Danielle Farrell, said: "I moved to Lixwm because of the school. It's small and compact, exactly how I wanted my children to be educated.
"The planned closure caused a lot of bad feeling and it is wonderful it has been saved.
"It just felt that all Brynford school cared about was the fact it was going to get a new building. They didn't care about us."
On Tuesday, in an emotionally charged meeting, the cabinet of Flintshire County Council made the extraordinary U-turn, deciding to go ahead with the federation, thus saving Lixwm school.
Councillor Ian Roberts, cabinet member for education, said: "The decision has been made today because of very strong arguments put by the local community to keep their school.
"I said all along there was no pre-determination and today has shown that. Hopefully, we have produced something both communities are happy with."
Addressing the bad feeling that the planned closure caused, Colin Everett, chief executive of Flintshire council, said: "We have to work with the village communities to repair this, because there is a bigger picture here about community life.
"We simply want to restore what were once very positive relations."
Both Brynford Primary School and its chair of governors, Clive Bracewell, refused to comment on the situation or animosity.
Jean Davies, owner of Brynford Stores and governor of Brynford School said: "A decision has been made and we have to move forward.
"I don't want to comment on the hostilities or the blaming that has gone on as it will add fuel to the fire.
"All I can say is I respect the feelings of those at Lixwm school and realise that emotions ran high.
"This is the ideal scenario, where everyone keeps their own school and we have to be positive about it and do our best by the children."