Wrexham Glyndwr University: £60m campus redevelopment proposed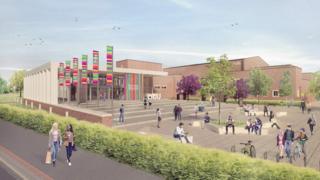 People are being asked to share their views on a huge redevelopment by Wrexham Glyndwr University.
A public consultation has been launched for seven planning applications to support the university's £60m Campus 2025 project.
They include the sale of two pieces of land in Wrexham for housing development.
There are plans for a new engineering building, a "learning gateway" development and student accommodation.
The public can comment on the proposals for the next 28 days.
The main campus will see major changes under the plans, with the student union and other redundant buildings demolished and the academic campus redeveloped.
To the north-west corner of the Plas Coch campus, a private housing development is proposed to replace the old student halls.
A new student accommodation block is planned next to the existing Wrexham Student Village.
'Critical to future'
The refurbishment and improvement to Regent Street Arts College will include new student accommodation with more proposed for land currently owned by the university at the west of Crispin Lane.
The university said the sale of land at Holt Road and Gatewen Road for housing would be for used for re-investment purposes.
University vice-chancellor Prof Maria Hinfelaar said: "The success of these planning applications is critical to the future of the university.
"Our ambition is to be the learning gateway into Wrexham and to contribute more to our local community. To achieve this, we need to do more with the footprint that we have and future-proof our campuses."
The planning applications can be viewed online and at Wrexham Glyndwr University.