Kevin Larking death: Army reservist drowned in kayak incident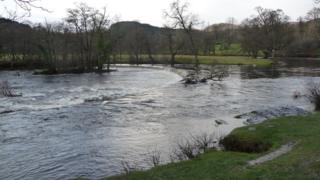 A mature university student and army reservist drowned in a fast-flowing river in Llangollen after his kayak capsized, an inquest heard.
Kevin Larking, 28, sustained a brain injury and was declared dead the day after the incident in January.
An inquest at Ruthin was told he got into difficulty at Horseshoe Falls on the River Dee.
Assistant coroner Elizabeth Dudley-Jones recorded a conclusion of misadventure.
Mr Larkin, a joiner from Colwyn Bay, was a fusilier with the 3rd Battalion Royal Welsh Regiment and had been a reservist for five years.
He was spotted tumbling into the water out of his kayak by Ross Montandon, who had been walking to the river at the beauty spot.
He compared the weir to a "big washing machine".
Another kayaker, Warwick Redway, who had jumped into the water and reached Mr Larkin, said in a statement: "I found myself pulled under the water, struggling for air myself, and had no other option but to let go of Kevin."
Mr Larkin was submerged for an estimated 15 minutes before being recovered from the river.
He was airlifted to Wythenshawe Hospital in Manchester but died the following day.