Flintshire council leader Aaron Shotton claims to be probed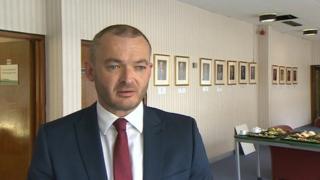 A complaint that Flintshire council's leader may have breached the local authority's code of conduct will be investigated, it has been confirmed.
The nature of the complaint against Labour's Aaron Shotton has not been revealed.
After assessing it, the Public Services Ombudsman for Wales, Nick Bennett, has decided to look into it.
Mr Shotton, leader of the council since 2012, has been asked to comment as have the Welsh Labour party.
He is also deputy leader of the Welsh Local Government Association.
A spokesman for the ombudsman said: "I can confirm that the ombudsman received a complaint that councillor Aaron Shotton of Flintshire county council may have breached his authority's code of conduct.
"Following consideration of the complaint, the ombudsman has decided that the matter will be investigated."