Corwen children still waiting for £20k skatepark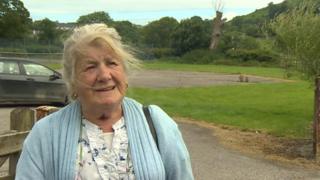 Young people are still waiting for a skatepark which was first promised to them 20 years ago.
Only a large slab of concrete has been delivered from the £20,000 publically-funded project in Corwen, Denbighshire.
Local volunteers ran into planning difficulties and now the 560 sq m concrete site is being used for extra car parking.
Denbighshire council said it did not receive the necessary information for the plans to go ahead.
The facility, next to the town's other recreational grounds, was promised to the youths as part of Corwen's Millennium Projects programme, set up in 1999.
Local volunteers formed Corwen Skateboard Park Ltd to undertake the work and received £15,000 from the Denbighshire Area Partnership, £5,000 from the Crime and Disorder Group and donations from local businesses.
But the voluntary committee collapsed in 2009, after most of the money was spent on groundworks.
Chair of Corwen Skateboard Park Committee, Llinos Ann Jones, said: "It was a project for the youngsters. We had something for the babies, something for the elderly - but this was meant to keep the kids off the streets and give them an interest.
"We started off well. We all worked very hard but it seemed as if we went from one problem to the next.
"I'm very, very disappointed, and so sorry for the children who were meant to be enjoying things like this. It's very sad that we can't move ahead.
"Anyone is welcome to take a look at them [paperwork] and maybe start it up again. I'd be willing to help."
However, county councillor and Chair of Corwen Community Council, Councillor Huw Jones, said that the chances of the plans being revived were "slim".
"If they [young people] want one, yes. If that's the 'in' thing at the moment. Skatepark, is that a 'fad' on the way out? Is there something else?" he said.
"I don't think the will is there from the youngsters to have the skatepark. If they want a skatepark we'll have to sit down and help them.
"There's various activities you can do in Corwen. There's no point dictating and saying 'You're going to have something' and then them not using it."
Children from Ysgol Bro Elwern in Gwyddelwern voiced their views on the skatepark.
Bedwyr from Year 5, said: "I like biking and scootering, but when I go to a skatepark I have to go to Ruthin because that's the closest. It would be easier if there was one in Corwen."
His schoolmate Elis said: "I know there's a lot people that live in Corwen that like biking and going to skateparks. I think it would get used."
But Lacey, who likes motorbiking and and gymnastics, said: "I wouldn't be bothered."
A spokesperson for Denbighshire County Council said: "The council asked for further information about the development, including details of height and floor plans. The company were notified that the site was on a flood plain and that the information was required in accordance with TAN 15 planning guidance.
"No response was received and so the planning application did not proceed."