Fly-tipping costs Denbighshire council £1,200 in a week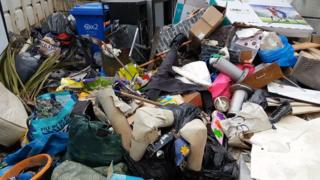 CCTV cameras are to be installed in a town after fly-tippers cost the council £1,200 in just one week.
The 2,700kg of rubbish illegally dumped in Rhyl West included mattresses, sofas, tyres and shopping trolleys.
It cost £1,200 to remove - and Denbighshire council has launched a campaign to get more people reporting the crime.
Residents have a "duty" to note down number plates so authorities can prosecute, one councillor said.
On Monday, the council released a video showing the week's fly-tipping haul piled up at its depot.
Emlyn Jones, head of planning and public protection, said: "Hopefully this sends a message about the amount of rubbish we're dealing with.
"Fly-tipping has a huge impact on the neighbourhood and the community.
"We're adding CCTV cameras to catch the people who fly-tip in the area and we will be cracking down on those who commit this offence."
This could include taking offenders to court and issuing fines of up to £350, he said.
Councillor Tony Thomas said: "Fly-tipping is seen as a disgusting crime by all except those that commit it.
"It's disappointing that someone would go to these sorts of lengths when they can dispose of their rubbish legally."
Residents can contact the council to have mattresses, washing machines and other broken utilities collected at a cost of £5 per item, he added.
They are also being urged to note down number plates when they see vehicles being used to fly-tip.
"The council and the authorities will make sure of prosecution," Mr Thomas said.
Councillor Brian Jones added that the thousands spent on dumped waste "should be put to a much more beneficial use."