Second coroner in warning over hospital delays risking lives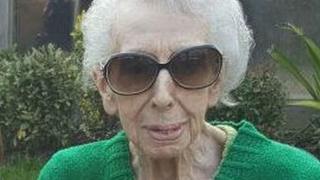 A second coroner has issued a warning over ambulance and hospital delays risking lives after hearing the inquest of a woman, 93, who died after lying on a path for three hours in winter.
North Wales senior coroner John Gittins said such problems were continuing despite previous alarms being raised.
Mr Gittins told Betsi Cadwaladr Health Board and Welsh Ambulance Service to take action after Megan Evans' death.
Health officials said they will respond to the concerns raised in a report.
Mr Gittins published his "Report to Prevent Future Deaths", following the death of Miss Evans on 5 February 2018, two weeks after she fell outside her home in Mold, Flintshire.
He recorded a verdict of accidental death in June with the causes of death being hospital-acquired pneumonia and a broken hip.
His report comes after David Pojur, assistant coroner for North Wales, wrote to the health board and ambulance service after the death of Ester Wood, 46.
Ms Wood died after spending five hours in an ambulance before being admitted to Wrexham Maelor Hospital.
In both cases, health officials have until August to say what they plan to do.
In a joint statement on Miss Evans' case they said: "We are working together to address the concerns he has raised, and will respond to the coroner directly as outlined in his report."
Miss Evans' inquest heard she fell over on 22 January this year and an ambulance was called at 10:30 GMT but one did not arrive until 13:50.
She was later taken to Wrexham Maelor Hospital, arriving at 14:50.
But she was not taken into A&E for another six-and-a-half hours because it was busy, and was eventually seen by a consultant at 21:30.
Mr Gittins wrote: "As a consequence of the above the deceased... was not seen by the emergency department doctor until almost eleven hours after help was initially summonsed, although it cannot be said that these delays contributed to her death.
"During the course of the inquest the evidence revealed matters giving rise to concern. In my opinion there is a risk that future deaths will occur unless action is taken."
His concerns included both ambulance delays and admissions to A&E.
Mr Gittins said he had reported the problems "on numerous occasions" at previous inquests.
"Despite the above reports issued to the health board and ambulance service these problems continue to the present day and patients' lives are being placed at risk as a result," he added.