Girls Aloud's Nicola Roberts gets CPS apology over stalker case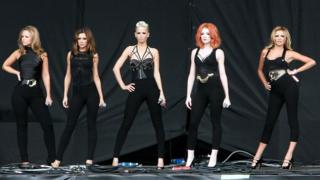 The Crown Prosecution Service has apologised to Girls Aloud star Nicola Roberts for failing to prosecute an ex-boyfriend accused of stalking her.
Carl Davies was given a lifetime restraining order in May 2017 for stalking the singer.
Davies was later charged with breaching it by looking at her social media, but the case was later dropped by the CPS.
Roberts told the Sunday Times she had been left "too scared to take the dogs for a walk".
Davies, from Flint, had sent 3,000 messages from 35 fake Twitter accounts to Roberts, after they split in 2008.
They included threats to stab and burn her.
In May last year, the Afghanistan veteran was given a 15-month prison sentence, suspended for two years, after admitting stalking the singer.
He was later charged with breaching the restraining order against her after being accused of viewing Miss Roberts's Instagram posts between July and August 2017.
But the CPS dropped the case because it believed there was no realistic prospect of a conviction.
Instead the judge extended the ban to prevent Davies viewing her social media posts and websites.
Now the CPS has apologised to Roberts for failing to prosecute Davies for breaching the restraining order.
"We accept our decision not to prosecute the breach of the order was incorrect," said a CPS statement.
"We have written to Ms Roberts to apologise and have taken steps to ensure lessons are learned from the case.
"We fully appreciate the impact stalking and harassment has on victims and we take prosecuting these cases extremely seriously.
"We regularly update our legal guidance to keep up with changes in technology, including social media platforms."
Roberts told The Sunday Times her experience had left her too scared to keep her window open at night.
The 32-year-old said Davies, who she dated for 18 months before their break up in 2008, had started following her again on Instagram after last year's restraining order to let her know that "he was still watching me".