Llantysilio Mountain grass fire continues despite rain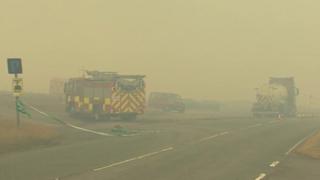 Firefighters are continuing to tackle a grass fire which started on Llantysilio Mountain in Denbighshire 19 days ago.
On Saturday evening, two staff at the family-run Ponderosa cafe were advised to leave due to "black acrid smoke".
Partner Simon Clemence said: "Never in 35 years have we experienced anything like this."
North Wales fire service said the blaze had affected three big areas on the mountain, with Sunday's rain having little impact.
Three engines and crews remained at the scene on Monday morning, although they were mainly monitoring and tackling particular hotspots.
A spokeswoman said despite Sunday's downpour elsewhere, there was not enough rain on the mountain to help firefighters' efforts, with water running off the ground because it was so dry.
Mr Clemence said the wind had been "fanning the flames" over the weekend and blowing the smoke towards the cafe, forcing his son and the cafe manager to leave on Saturday evening.
The cafe remained shut on Sunday but has since reopened.
He described conditions as "really dangerous" and said the landscape will be "scarred" for some time, although he believes it will recover.
Part of the Horseshoe Pass remains closed on Monday.
Natural Resources Wales (NRW) has said it could take "decades" for the land to recover.
The area is designated a site of special scientific interest, and an important habitat for rare species of bird such as the black grouse.
"The fire is burning right through the peat, which is very deep, and the seeds and so forth which are in the peat will all be destroyed by the fire," NRW operations manager Nick Thomas told Newyddion 9 on Friday.