Caernarfon town square is turfed for picnic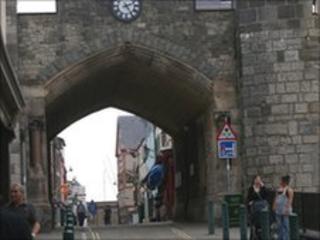 Turf has been used to cover a town square for a picnic and a gatehouse in walls of the town have been turned into a cinema.
It is part of Caernarfon's Gŵyl Arall (Another) Festival where organisers want to use various locations in unusual ways.
The weekend-long event in the Gwynedd town will feature literature, music, art and film.
Poets Carol Ann Duffy and Gillian Clarke are among the speakers.
Others include Howard Marks and Rhys Ifans.
"We've got a company who are willing to turf over the slate surface of Turf Square (so-called because it is thought peat turf was sold there) so that people can picnic," said Eirian James, one of the festival organisers.
"A local garden centre is bringing flowers to make the space pretty, and we have local crafts-people with stalls," she added.
Ms James said the idea was to use spaces "in a way which is different to how they are usually used".
"We'll be using Clwb Dre, which is the old Conservative Club, for a gig, the market hall for talks, and we'll have an artist create a piece of art on a pleasure boat," she added.
An empty shop will be used for an art exhibition, and Porth Mawr - also known as East Gate or Exchequer Gate - which was the main entrance into the town in the 13th Century as a cinema.
Ms James said the idea came after the organisers had to think of somewhere to put on a series of short films commissioned locally on the theme 'Cofi-land' (Cofi is the name given to anyone born-and-bred in Caernarfon).
It is fitting too that the Porth Mawr is used because there used to be a cinema in the building, she added.
Gŵyl Arall (Another) Festival will be held in Caernarfon from 23 - 25 July.