Lake's cable pull for wakeboards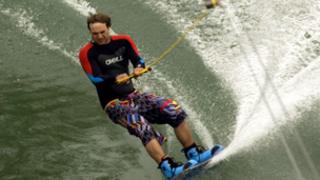 A cable pull system has been installed at a lake in Gwynedd for wakeboarders to practise the sport without a boat.
Wakeboarding involves riding a short, broad water ski like a surfboard and experts can perform tricks, including spins of up to 180 degrees, as the board is, usually, towed by a boat.
The new system at Glasfryn Parc near Pwllheli in Gwynedd uses a cable system to pull wakeboarders across the lake.
It means people can wakeboard without relying on a boat.
"Wakeboarding is one of the fastest growing sports and I'm delighted that visitors to the parc can try this for themselves," said park owner Jonathan Williams Ellis.
He said using the cable system meant that it was an "accessible" way to get into the sport.
"It can be used whatever the weather with no need to rely on a boat or wait for perfect conditions at sea," he added.
Glasfryn, which opened in 1992, has grown from a go-kart track to include a bowling alley, soft-play area, archery, quad-biking and farm shop.
The park currently employs 16 full-time and 25 part-time staff.