Blue-green algae warning at Anglesey lake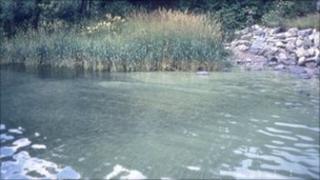 An outbreak of blue-green algae at Aberffraw on Anglesey has been confirmed by Environment Agency Wales.
Anglesey council is advising people not to drink or swim in Llyn Coron, a freshwater lake of about 80 acres (32 hectares.
The advice says that the scum on the surface of the water may contain toxins produced by the blue-green algae.
Farmers and pet owners are also being advised to not to allow their animals or pets drink from the lake.
A spokesperson said Environment Agency Wales samples taken from the lake last week showed the levels of blue-green algae were above the warning threshold.
She said: "We advise people to pay close attention to the advice being issued by Anglesey council as blooms of blue-green algae can be hazardous.
"Blue-green algae occurs naturally but blooms can form when their numbers become excessive.
"Blue-green algae photosynthesise during the day and add oxygen to the water, but consume it at night. This means oxygen levels can be very low in the early morning and can suffocate fish and other creatures.
Euryn Roberts, Senior Environment Officer for Environment Agency Wales, said: "Algal blooms can occur in lakes where sufficient nutrients are present and the weather is warm and calm, as during the recent hot weather.
"We will be monitoring the situation closely over the coming weeks.
"We'd expect the bloom to continue whilst the weather conditions remain favourable over the summer."