Anglesey couple in fight to reduce noise from fish farm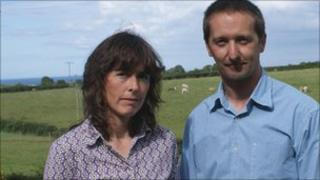 A family on Anglesey claim they have to move out of their home regularly due to the noise coming from a nearby industrial site.
Janine and Chris Guest say generators at a fish farm near their home in Penmon, near Llangoed, have interrupted their sleep for 10 months.
Anglesey council, which has had several complaints, says it is monitoring the situation.
Selonda UK, which operates the farm, says it has fitted silencers.
But the couple say they are "desperate" and could be forced to leave the home they love to escape the noise.
The row began in September when Selonda, which operates within West Dinmor Quarry in Penmon, began using generators at its site.
The couple, together with other residents, complained to Anglesey council.
Environmental Health officers visited their home to monitor the noise, which was deemed a statutory nuisance and a noise abatement notice was served.
But the couple says this has done nothing to reduce the problem and they are at their wits' end.
Mrs Guest said: "One of the reasons we chose to live in Penmon is because it's such a beautiful landscape and it's in an Area of Outstanding Natural Beauty where tranquillity is so valued for tourism.
"The generator noise has regularly kept us awake at night and caused a lot of stress and disruption to the family.
"It's a deep, rumbling, low frequency noise that pulses through the walls of the house without reducing in any level.
"It's really annoying and puts pressure on your ear drums so it's hard to ignore it."
The couple, who both work in Bangor, say they have been staying with relatives because it's been so difficult to live with the noise.
'Desperate'
Mrs Guest added: "We really are desperate."
The council said Environmental Health officers continued to actively investigate after receiving six noise complaints.
A spokesperson said: "Following the appointment of an acoustic consultant, silencers were designed and manufactured in order to provide a solution to the noise issues the residents initially reported.
"The current situation is that noise monitoring is still actively under way.
Monitoring
"It is hoped that a successful outcome for all concerned is achievable within the very near future."
Philip Gatland, managing director at Selonda UK, promised to continue monitoring the situation.
He said additional silencers had been fitted on the generators and seemed to have been effective.
He added: "We have recorded a reduction of 17 decibels in the tone.
"The main problem is that we are unable to use mains power due to the low voltage on the line. We don't want to use generators but we are forced to because of the poor power supply.
"We fitted the silencers a couple of weeks ago and an independent noise consultant and the council have been monitoring. We sympathise with the residents concerned."