£300,000 to improve shop fronts in Llandudno Junction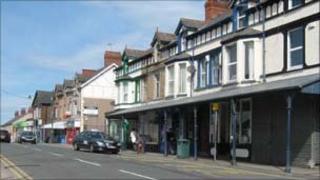 Businesses in the Conwy town of Llandudno Junction are to get a boost as part of a £300,000 scheme.
Conwy council will offer grants to businesses to improve shop fronts as part of planned street improvements.
Later in the year the council also plans a consultation exercise to ask local people which other improvements they would like to see.
Ideas include improving new gateway signage, cycle parking, public art, parking and traffic management.
"The objective is to create a distinctive and attractive local shopping centre that will meet the aspirations of the Llandudno Junction master plan," said Coun Philip C Evans, cabinet member for corporate and regulatory services.
Llandudno Junction Councillor Mike Priestley said it was a "fantastic opportunity" with the opening of the Welsh Assembly Government building recently to develop the town as a "hub" for people working in the area.
The scheme is also seen as a way to benefit the community by enhancing retail and leisure opportunities, safeguard jobs, and create new ones.
Any businesses interested in the scheme should contact the council project team on 01492 575254/85.