Fire damages pupils' art at Harlech station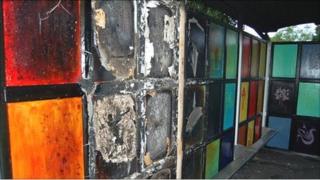 Artwork created by children to spruce up Harlech railway station in Gwynedd has been damaged by arsonists.
Pupils from Ysgol Ardudwy in Harlech finished their panel designs for a shelter at the station just a few weeks ago.
But a fire on Sunday has destroyed much of their work.
British Transport Police said it appeared that a stolen moped had been set alight and the fire had damaged the shelter at the station.
Teacher Emma Roberts said: "The pupils did [the artwork] about three weeks ago. It's quite shocking really but what can you do?"
"We've got to trust people. It's disappointing to set fire to it."
The art project was started when Harlech Women's Institute decided to smarten up the station, which locals thought had become a bit of an eyesore.
A rota was formed to clean the platform but it grew into a more ambitious plan, backed by rail company Arriva, which saw the station decorated with artwork.
A mural was created for one shelter, with work carried out by WI volunteers, while the pupils were given a panel each for their stencils to decorate the other shelter.
Amanda Sims, of Harlech WI, said she was disappointed but was determined the panels would be repaired.
"The difference it's made has been fantastic. I think it's united the community because so many people were involved," she said.
She added: "The children were there for three days but the two teachers gave extra time because they knew the children wouldn't be able to do it in the time they had - they must've spent a good week there.
"The children were absolutely brilliant. They were very proud of what they had done."
A British Transport Police spokesperson said: "It appears there's been a moped stolen and it appears this moped has been set on fire and the fire has damaged the shelter."
Transport police officers were alerted to the incident at 1423 BST on Sunday.