Woman burglar jailed for attack on Rhuddlan couple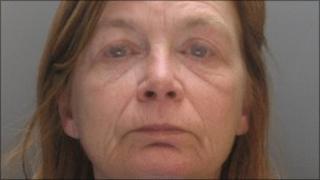 A woman who drunkenly burgled and beat a couple in their 80s in a 'cowardly' attack has been jailed.
Maureen Cunniam, 49, of Rhuddlan, Denbighshire, forced her way into the cottage of her neighbours Doris Cook, 87, and Eric Cook, 84, last April.
Caernarfon Crown Court heard she hit the couple with a heavy wooden bat before stealing money from them.
Cunniam, who told police she was 'full of alcohol', was jailed for three-and-a-half years.
She admitted aggravated burglary, wounding and assault causing actual bodily harm.
Sentencing her Judge Neil Bidder QC said: "A more cowardly attack can hardly be imagined."
The court was told that earlier the same day Cunniam had knocked on the Cooks' door, asking to borrow money, and was given £2.
Assault
Later the same day she called at their home again, striking Mrs Cook, a grandmother a total of four or five times.
The assault left her with a broken wrist and a fractured bone in her hand, needing eight stitches in two cuts on her scalp, and with damaged hearing.
During the case, Miss Mullin told the court how Mr Cook rushed to help his wife after hearing her scream.
In an attempt to stop the violence, Mr Cook tried to pull Cunniam off his wife and disarm her but was struck in the process.
Mr Cook suffered cuts and bruises in the attack.
On arrest, Cunniam told police she could not remember much about the attack.
A defence barrister said she had a potent cocktail of alcohol, antidepressants and painkillers in her system at the time.