Gwynedd council's four year £47m savings fear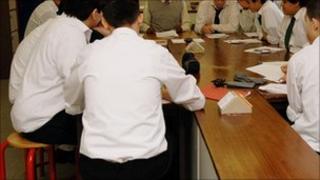 Council officials in Gwynedd might have to deliver up to £47m in savings over the next four years, a report has revealed.
The local authority says its figures are based on the cuts announced in last month's emergency budget by the chancellor of the exchequer.
The report said the £47m in savings was equivalent to cutting its education budget by half.
The council has already identified £16m of savings.
At a meeting on Tuesday, councillors voted to overhaul a strategy which is identifying savings, and develop a new one in light of the report.
Councillor John R. Jones, who heads the council's financial strategy, said: "Following the chancellor' s recent budget, the extent of the financial challenge facing public services and the communities we serve is becoming clearer - and the situation is looking extremely bleak.
Tens of millions
"Whilst the exact situation will not be confirmed until the autumn, our initial projections show that we may have to deliver around £47m of savings over the coming four years."
The report says that, if the £47m projection proves accurate, it would be equivalent to "deleting the net budget of every Gwynedd council service apart from education, social services and regulatory services".
It would also be equivalent to losing 87% of its social services net budget, and cutting money for education by 50%.
The council said with cross-party support it had already identified £16m of savings, but even if its councillors were willing to raise council tax by 4% every year until 2014 to protect services, this would still mean the council might need to find a further £7m for the two-year period 2011/12 and 2012/13.
In addition, the local authority would have to find a further £21m for 2013/14 and 2014/15.
Gwynedd council's director with responsibility for finance, Dilwyn Williams said: "Whilst we will not know for certain the level of grant we are likely to receive for the next four years until November, we must plan ahead if we are to try and minimise the impact upon Gwynedd's citizens."
Before George Osborne's budget, the Welsh Local Government Association was warning that councils across Wales faced making cuts of tens of millions of pounds over the next few years.
It said in June last year that they were needed to cope with reductions in government funding.