Students in dramatic low cloud rescue in Snowdonia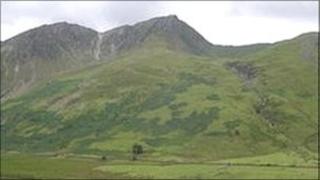 A group of students on an expedition had to be rescued after becoming lost in low cloud in Snowdonia.
The seven 17-year-olds from Hertfordshire were completing their Duke of Edinburgh gold award when they lost visibility on the Glyders range.
The group's assessor then fell 20m (65.6ft) onto sharp rocks while trying to rescue them, severely cutting his leg and arms.
A helicopter from RAF Valley was scrambled for the rescue.
It managed to rescue the assessor, a colleague and two members of the group on Monday evening.
Ogwen Valley Mountain Rescue also deployed 20 team members to the scene.
Chris Lloyd, press officer for the mountain rescue team, said the walkers got into difficulty when the cloud level suddenly dropped and they took a wrong turn.
Group scattered
They quickly found themselves on loose steep ground 914m (3,000ft) up on Cwm Cneifion in the Ogwen Valley.
The group scattered and two of the girls - the only two with maps - decided to descend to seek help.
At the same time a member of the group lost in the cloud managed to contact their assessor via radio and he and a colleague came to retrieve them during a gap in the cloud.
Mr Lloyd said: "The 26-year-old male assessor took a 20m fall and severely lacerated his leg and arms on sharp rocks.
"At 8.30pm on Monday we were called and deployed a hasty team on foot with a helicopter from RAF Valley standing by.
"When they found out there was an injured casualty the helicopter was able to clip the bottom of the cloud and search for him and rescue the two other girls."
The cloud level then dropped again so the helicopter was unable to pull the rest of the group to safety.
Another rescue team was deployed on foot and brought the remainder of the group down using ropes - arriving at the rescue team base at 0330BST.
Mr Lloyd said the injured staff member had been taken to hospital overnight and needed stitches to his wounds.