Family rescued from 'no go' area in Snowdonia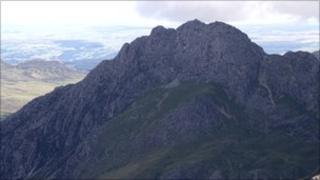 A family of four from Worcestershire have been airlifted from what is described as a 'no-go' area of a Snowdonia mountain.
The two adults, a teenage girl and boy, and a labrador had to be winched off the 3,000 ft (914m) high Tryfan after becoming trapped on its west side.
On Monday, mountain rescue teams led a seven hour operation to save a group of 17-year-olds lost on the Glyders range.
The seven teenagers were on a Duke of Edinburgh award expedition.
Referring to the most recent rescue operation, Chris Lloyd, from Ogwen Valley Mountain Rescue, said the family had mistakenly attempted to descend a gully on Tryfan.
"It's a no go high-risk area - not even goats go there," he said.
"There are rock steps and it's extremely unpleasant."
A rescue Sea King helicopter from RAF Valley flew the well-equipped family back to the mountain rescue team base.
On Monday, 22 members of the Ogwen Valley team were involved in rescuing seven students when they became lost on Gribin Ridge in the Glyders.
In low cloud, the walkers got into difficulty when they took a wrong turn.
The group's assessor had fallen 20m (65.6ft) onto sharp rocks while trying to rescue them, severely cutting his leg and arms.
A helicopter from RAF Valley was scrambled for the rescue.
It managed to rescue the assessor, a colleague and two members of the group on Monday evening.
Ogwen Valley Mountain Rescue deployed 20 team members to the scene.