Former slate workers concern over lung compensation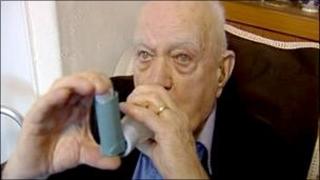 Campaigners for compensation for lung disease in slate mine workers fear the UK government may not act on plans by the former Labour administration.
Labour was considering a compensation fund and an agency to trace insurers of former slate quarry firms.
Former slate workers in north Wales say they have not been treated in the same way as coal miners over compensation.
The Department of Work and Pensions said it would respond to the previous government's proposals "in due course".
Campaigners for slate mining disease compensation say they have been hampered by the fact that many of the employer firms no longer exist.
Dylan Jones, of Gwynedd Law Society, said: "The great difficulty in the days when the quarries were open, [was that] the quarry owners wouldn't accept that there was a problem.
"And even when they did accept that there was a potential problem, that was then assessed by the quarry's own doctor, who may have been less likely to find that there was a condition there attributable to the work in the quarry.
"You're dealing with a very, very different age, when the health and safety legislation wasn't in place, and people were much more trusting, perhaps, of the information given to them by their employers."
Former union official Ted Oliver, 93, of Mynydd Llandygai, Gwynedd, left the slate industry in 1960 and was diagnosed with pneumoconiosis in later life.
He said he is bitter at the way slate workers were treated.
He said: "It was a battle to try and get some money for the men that were suffering.
"And it's a pitiful sight seeing a quarryman after he's had dust [in the lungs]."
The quarry compensation scheme proposed by the former UK government has been compared to the compensation scheme for people hit by uninsured car drivers.
Former Aberconwy MP, Betty Williams, whose father died from the effects of slate dust, said the recent Labour government had put a lot of thought into ensuring its proposals would mean injured slate industry workers and their families could still claim.
The plans' consultation period ended a day before the general election in May.
She said: "What bothers me now and worries me deeply, is that the present Conservative-Lib Dem coalition government are talking about getting rid of non-governmental organisations - they might not even consider the proposals.
"They might not even consider the setting up of these two bodies, which would help the people that we have been fighting for for many years."