Funding plea secures remote Snowdonia woodland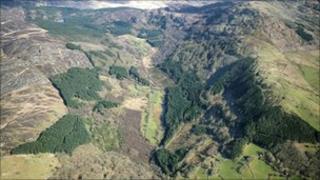 A conservation charity says it has succeeded in raising more than £800,000 to buy a remote woodland in the Snowdonia National Park.
The Woodland Trust says nearly 15,000 people have contributed to its appeal.
The trust has now completed the purchase of almost 1,000 acres of the woodland, which lies in a valley between Dolgellau and Barmouth.
The charity now wants to replace conifers in the woods with native oak, ash and rowan trees.
Eryl Roberts of the Woodland Trust said: "We are hugely grateful to each one of the nearly 15,000 of people who have contributed to the appeal.
"Over the past few months we have been busy tying up the details of the sale and we are delighted that this process has now been successfully concluded."
However, there remains a shortfall in funding plans and the trust said it would continue raising money to manage and restore the site.
Native trees
"It signals the start of a great deal of work making detailed plans to restore the landscape of the valley," added Mr Roberts.
"We are looking forward to working closely with our new neighbours and indeed the whole of the local community in doing this."
The campaign to raise funds for the woods was backed by television wildlife presenter Iolo Williams, who has supported the trust's move to restock the site with native Welsh trees.
"Cwm Mynach is a very special place and I've had the pleasure of walking the valley many times over the last three decades," he said.
"As a result of removing non-native trees and promoting native deciduous ones, the site should become all the better both for wildlife and for visitors."