Sat-nav lorries 'damaging Beddgelert'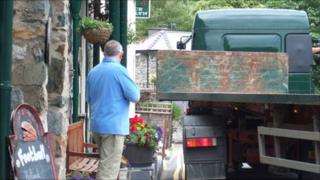 Large lorries are being directed by sat-nav through a village and damaging a bridge and properties, say residents.
It is claimed drivers are ignoring warning signs and passing through Beddgelert in Gwynedd rather than taking alternative routes.
On Friday morning, a guest house was damaged by a lorry manoeuvring across the village bridge, although it is not clear if sat-nav was involved.
Gwynedd council said new signs had been put in place near Tremadog.
Residents say better and more frequent signs are needed and have called a public meeting to discuss the issue.
Colwyn Guest House owner Colleen Marsden said of the latest incident, which was at 0700 BST on Friday: "As a lorry came down it caught my building. It came round the corner and it actually pushed one of the windows in.
"I've got some guests in that room. It's been pushed in a good six inches or so but it's not collapsed."
She said she was alerted by the sound of the lorry "scraping" along the building.
Sharon Sanders, who owns the Plas Tan y Graig guesthouse with her partner, said a wall outside their property was being damaged regularly.
"Our house was built 150 years ago and I think the wall was built at around the same time," she said.
"The wall is being knocked by large lorries coming round that have lost their way, shall we say, with sat-nav.
"It's not only our property. The cottage next door to us, back in November, there was this almighty crash outside and we rushed outside to see a large lorry.
"The guttering, the downpipe, fascia board and three rows of tiles from the roof were wiped off."
Ms Sanders said another problem was that lorries getting stuck at the bridge could prevent the emergency services from getting through.
She organised a public meeting to try to address the problem.
"The end point is going to be stopping the lorries coming through, whether it's a total ban on lorries of a certain size or better signage," she added.
Brian Wheatley, owner of Plas Gwyn Guest House, said there was a particular problem with lorries on the A487 at Tremadog turning towards Beddgelert on the smaller A498.
"Beddgelert has got an A road that runs through it and it's got a grade II listed bridge," he said.
"It's a very tight angle on the bridge and it's being hit and the council are forever coming to repair it.
"Sometimes it's not the lorry drivers' fault, but they're following their sat-navs. There's other ways round but they're sent the wrong way."
County councillor Alwyn Gruffydd said the best answer was probably banning heavy goods vehicles or better signs.
"It's costing the council thousands of pounds because they're hitting the bridge," he added.
Gwynedd council said signs advising motorists not to follow sat-nav systems down unsuitable roads were in place across the county.
A spokesperson said: "The signs have been located in areas based on feedback by local residents and where problems have been identified in the past. The council will continue to monitor the situation.
"New signs have been put in place near Tremadog advising motorists as they travel towards the Beddgelert area."
An officer from the council's traffic and street care service will attend the public meeting.