Post office worker stole £36k to save village shop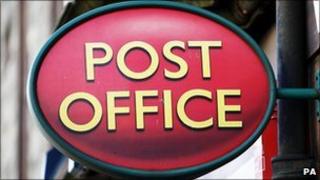 A Conwy post office worker who stole £36,000 to save her village shop after a nearby factory closed, has been given a suspended jail sentence.
Emma Wilding, 37, of Dolgarrog, received a 52-week jail term, suspended for two years, after she admitted stealing from the village's post office between November 2007 and October 2009.
Caernarfon Crown Court heard it was an "exceptional case".
The theft occurred after Dolgarrog Aluminium closed in 2007.
Now demolished, it had employed 170 people before its closure.
Judge Niclas Parry told her: "I accept your motivation for offending was to keep afloat a business in a community wracked by recession.
"I accept you made no personal gain.
"This is quite an exceptional case. It would be utter wastefulness to send you into what would be a relatively short period of custody."
Wilding's mother had been sub-postmistress but the two businesses were run by Wilding.
She now faces proceedings to recover the loss.