'Largest' cruise ship to call at Anglesey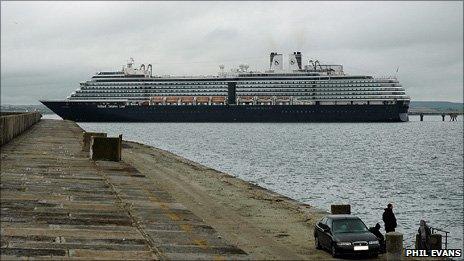 A massive cruise ship bringing thousands of visitors on a day trip has docked at Holyead on Anglesey.
The 10-deck Westerdam, berthed alongside the Anglesey Aluminium jetty at 0800 BST, carrying United States and European passengers.
It is thought the liner - with 2,000 passengers and 1,000 crew - is the largest to berth there.
Anglesey council said the visit was a "big deal" which could impact on any future cruise market.
"This is the largest ship to arrive on the island, so it's a very big deal for us," said Julia McCormack, the cruise co-ordinator for Anglesey council.
Ms McCormack said a partnership between Anglesey Aluminium, Stena and the Welsh Assembly Government had helped provide new facilities including a gift shop, information centre, disabled toilets, an internet centre and a dedicated stage and entertainment area.
"Whilst some passengers will have booked to go on formal tours of the whole of north west Wales once they disembark, it's important for the future of the cruise market that we provide a warm Welsh welcome on the shore," said Ms McCormack.
"We have also organised things for people to do and see in Holyhead and the rest of Anglesey," she added.
Local coach companies were expected to line up along the jetty and shuttle buses take visitors into Holyhead where an AlFresco Festival has been organised with live music, street entertainment, and face painting.
"This has been very much a team effort, and we've all worked hard to make sure there is plenty for people to do and see once they arrive on shore.
"We've all got our fingers crossed for a fantastic day, and the start of something really exciting," Ms McCormack said.
The 950 feet long (289m) Westerdam will sail into Anglesey from Ireland and will head to Scotland and Northern Ireland at 1700 BST on Saturday.
Related Internet Links
The BBC is not responsible for the content of external sites.