Anglesey MP says elected mayor 'only way forward'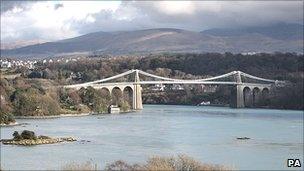 Anglesey's MP is calling for the island to have an elected mayor to make the council "accountable for its actions".
Albert Owen, launching his campaign at the Anglesey County Show, said a mayor would be good for the area's stability.
Last year the assembly government stepped in to run Anglesey council after a critical report.
The council said it did not think a response was necessary to Mr Owen's demand.
Mr Owen said: "I believe that a mayor voted in by the people of Anglesey is the only way we can really go forward with the council.
"A directly elected mayor will be someone who would speak for the whole area and would make it easier to get things done and would be responsible should things go wrong.
"It's time for Anglesey County Council to get its act together and be accountable for its actions.
"I believe an elected mayor is the best way forward for the island, bringing both stability and accountability to the people of Anglesey and motivating both councillors and our beleaguered council staff alike."
In July, the chair of the recovery board overseeing progress in how the council is run said it had to make long-term improvements in its management.
Dr Elan Closs Stephens said otherwise it could be run by commissioners.
At the time Dr Stephens said improvements had been made, but the board remained to be convinced the council would go on in the same manner when supervision ends.
But she said the board remained to be convinced the council would continue in the same vein after supervision ends.
Meanwhile, the two-day Anglesey County Show will be held on its permanent showground close to the A55.
There will be entertainment, hundreds of stands, show jumping competitions and cattle, sheep, goat and falconry displays.
A new meat initiative, the Anglesey Grazing Animals Partnership (AGAP), will also be launched.
Related Internet Links
The BBC is not responsible for the content of external sites.