Glamorgan sorry for OAPs' cricket ban over metal spoons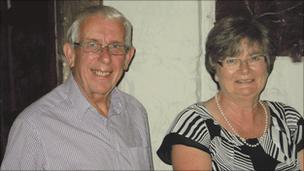 Two pensioners have criticised "pettiness" for being refused entry to a cricket match because they were carrying metal spoons.
Lancashire fans Carole and Mike Russell wanted to eat strawberries at Glamorgan's NatWest Pro 40 tie in Colwyn Bay.
Glamorgan will apologise to the retired teachers, 70 and 72, for "over enthusiastic" stewarding.
The club said the couple left before plastic spoons could be offered.
Ms Russell and her husband, from Stockport, Greater Manchester, had called to see a friend in Llandudno, Conwy before the match.
Ms Russell said: "Our friend gave us some strawberries and cream and two spoons to eat them with.
"When we got to the ground there was a bag search at the gate, which wasn't unusual.
"The woman lifted the spoons out and said 'You can not bring those in here.' She said it was because they were metal.
"She also took exception to the jars, one with tea and one with coffee.
"I was absolutely astounded."
She added: "The spoons didn't belong to us, so I couldn't risk leaving them, and we decided not to go in.
"I just think it's over-zealousness at the gate. What do you think two pensioners are going to do with a couple of dessert spoons?"
Ms Russell said she blamed the incident on "health and safety gone mad," adding she would not be visiting Colwyn Bay again.
"I don't like pettiness. I think they should instruct their officials to have some leeway."
Ground regulations can restrict fans bringing in items like metal cans, banners and items considered dangerous.
Glamorgan's regulations state stewards and police "have the right to confiscate any items which, in their absolute discretion, they consider may be a danger to other spectators".
Glamorgan were acting as the host team on the day at Colwyn Bay Cricket Club
The county said they were following guidelines set by the England and Wales Cricket Board (ECB).
A Glamorgan spokesman added: "In this particular incident the steward was perhaps over enthusiastic about the policy, not allowing the metal spoons into the ground.
"Disappointingly the couple left the venue abruptly without giving the stewards a chance to explain and offer alternative plastic cutlery."
It said the policy of replacing metal cutlery with plastic would continue, adding: "Glamorgan Cricket plan to contact the couple and apologise for any distress caused but also explain the reasons for thorough security checks."
Related Internet Links
The BBC is not responsible for the content of external sites.