Sixth - and last - surrogate baby for Gwynedd mother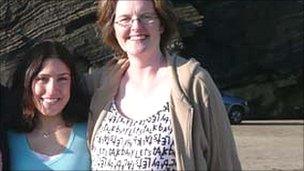 A surrogate mother who has carried six babies for childless couples is pregnant for the last time aged 47.
Liz Stringer, from Talsarnau, Gwynedd, had two daughters when she decided to become a surrogate.
Her sixth, a girl, is due in six weeks, and she said helping others become parents was "slightly addictive".
This time she is carrying a second baby for Sharmy Beaumont who said Liz is "really selfless, one in a million.".
Sharmy and her financial analyst husband John's second daughter is due in early October, and the couple, from Surrey, will be with Liz in north Wales for the birth.
Their first baby Isabelle is now 15 months.
Sharmy, 34, who works in medical communications, said she is unable to carry a pregnancy herself because her uterus is not big enough or fully developed.
She met Liz through the organisation Surrogacy UK, of which Liz is a co-founder. They hit if off straightwaway, and have become good friends.
"We still feel very special that she has wanted to do it enough for us," said Sharmy.
"To make our family complete when we don't have one baby, but two, is amazing."
Ms Stringer said all the pregnancies were different, and they are fitted in with a job as a cook in a nursing home in Porthmadog, running an organic baby clothes company in the evening, and being mother to her own daughters Lindsay, 19, and Steph, 16.
"All pregnancies are different, but I am 6ft tall with a very big pelvis, so physically I'm OK, and the births are easy," she said.
The last baby was a home birth, and the baby before that arrived in the ambulance on the way to hospital.
Despite the "easy" births, however, there is still the occasional sickness and discomfort associated with pregnancy - along with IVF treatment to get pregnant as a surrogate in the first place - and this time "severe anaemia".
"I'm on a week's holiday at the moment, and trying to stay flat as I feel dizzy when I get up," she said.
But in the next breath she added that being a surrogate is "slightly addictive".
"It's the kick you get from helping people become parents."She said there was a shortage of surrogates with "about 40 a year, although of these many will be trying, not all of them will be pregnant".
Ms Stringer is involved in a website set up to offer advice to would-be surrogate mothers, and those who wish to become parents.
As well as the practical information the website offers mentoring services for all those involved in what can be an "unusual" way to become a parent, she said.
She said being a single parent made it easier emotionally for her to become involved in surrogacy, as husbands of surrogates could see it as "unnatural" that their partner was carrying someone else's child.
She said she was thrilled to know that this time she was carrying a girl.
"I have never done two for the same person before - but I wanted to do it one last time, and as I also have two girls I'm thrilled they too will have two girls," she said.
But she would not want to parent all the children she has carried.
"It is the most amazing feeling of doing something great for somebody, it's just wonderful," she said.
"Some people say: 'How can you give them away?'
"But I'm not giving them away, I give them to their parents," she said.
This pregnancy has one down side, however.
She has been nominated for a Mumpreneur business award for her Dragon Babies Clothing company, which was inspired by a fruitless search for organic Welsh baby clothes after Isabelle was born.
But the ceremony will be in Birmingham, just three days before she is due to give birth, and she would have loved to go, but could not.
Related Internet Links
The BBC is not responsible for the content of external sites.