RAF Valley jet pilot 'withdrawn' from air shows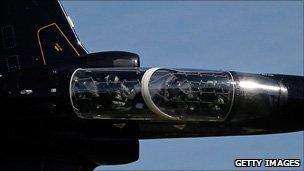 An RAF Valley display pilot has been withdrawn from flying at air shows while an "incident" is investigated, the Ministry of Defence (MOD) said.
Fl Lt Tom Saunders' Hawk jet displays have been replaced by "role demonstration" manoeuvres.
The airman, 29, who lives on Anglesey, is continuing to work as an instructor.
The RAF said it was aware how popular the display was, and apologised for any disappointment.
Fl Lt Saunders is still undertaking his work as an instructor, teaching students to fly Hawk aircraft at the Valley air base.
A statement on the Hawk display team website said: "The RAF Hawk display will be substituted with a Hawk role demonstration for the remainder of the current season.
"It is with considerable regret that Flt Lt Tom Saunders has been withdrawn from his role as the Hawk solo display pilot for the remainder of the summer display season.
"This follows an incident which took place recently involving the Hawk display aircraft.
"The RAF is aware of how popular the Hawk solo display is and apologises for any disappointment caused."
A spokesman for the Hawk display team said Flt Lt Saunders' aerobatic displays had been replaced by a simpler "role demonstration" made up of manoeuvres the aircraft routinely carried out.
He said: "A display requires quite a lot of preparation. A role demonstration can be prepared a lot more quickly. But the Hawk will still be going past the crowd at 500mph.
"We were down at Eastbourne the weekend just gone and the reaction was very positive.
"Because it's a non-aerobatic display, it's slightly closer to the crowd. It's gone down very well so far."
Flt Lt Saunders' distinctive Hawk display aircraft was decorated with the union flag, and was a well-known sight at airshows.
The Ministry of Defence refused to elaborate on why the airman had been withdrawn.
A spokeswoman said: "An incident has occurred involving the pilot of the RAF Hawk display aircraft, who has since been withdrawn from his role.
"The incident is being investigated and it would be inappropriate to comment further at this time."
The two-seater RAF Hawk, which can reach speeds of more than 630mph, is used to train pilots to fly fast jets.
Related Internet Links
The BBC is not responsible for the content of external sites.