Victorian £1,800 lamp posts plan for Abergele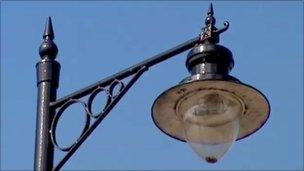 A town council has decided to pay more than three times the basic cost of replacing its lamp posts.
Abergele in Conwy county hopes to enhance the town centre with about 56 "mock Victorian" lamp posts at £1,800 each, rather than £500 concrete ones.
Conwy council pays for street lights, but Abergele will cover the extra cost of posts in a conservation area.
The council believes it will look better with the lamps, but it has been criticised by a councillor.
The current posts are coming to the end of their working life.
Town mayor Malcolm Medicott said: "It does seem like a lot of money, I agree," but added: "It's just trying to enhance the town really.
"I can understand it [concern over the cost] but we want the best for the town. Hopefully that will encourage people not only to shop here but to open a shop here."
Mr Medicott said there had only been three or four complaints from local people, but town councillor and Conwy county councillor John Pitt disagreed.
"I've yet to find anyone who thinks it's a good idea," said Mr Pitt.
"£1,800 strikes me as a bit over the top."
Work to replace the lamp posts is due to start in October and should be finished by the end of the financial year, with the cost spread over three years.
Related Internet Links
The BBC is not responsible for the content of external sites.