Author and war hero dies aged 97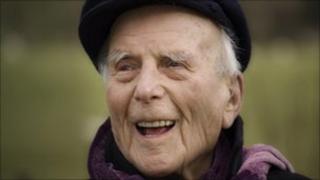 A former journalist, commando, writer and poet has died at his home near Porthmadog in Gwynedd at the age of 97.
Michael Burn, who worked for The Times, lived in Wales for 60 years where he wrote numerous books and novels.
A commando during World War II, he was caught after a raid at St Nazaire in France and later sent to the infamous Colditz.
He wrote a book about his experiences which is being turned into a film.
Before the war Mr Burn developed an interest in national socialism and met the German leader Adolf Hitler and attended a Nazi party rally.
Later, he wrote that he had been blinded by the 'intensely organized falsehood' that was the 'new' Germany.
In 1937 when Hitler's intentions were becoming more clear Mr Burn enlisted in the Queen's Westminsters, and when war was declared he was called up immediately, volunteering for the "independent companies" which were men willing to undertake exceptional risks.
Later he joined the commandos and in March 1942 was captain in command of Number 6 Troop, 2 Commando, when he took part in the St Nazaire Raid - or Operation Chariot - a successful British amphibious attack on the heavily defended Normandie dock at St Nazaire in German-occupied France.
He later received the Military Cross, after being freed from Colditz prison camp at the end of the war.
As well as being a foreign correspondent for The Times Mr Burn, who was known as Micky, wrote nine non-fiction books, four novels and six books of poetry.
One of his books about his experiences at the St Nazaire raid is being made into a Hollywood film.
Newspaper clippings
Mr Burn's niece Ronanni Spreafico said he spoke "non-stop" and loved the fact a film was being made about it.
"He loved to talk about himself, whether it be the war or any other part of his extraordinary life, so it was never boring.
"He would never have lived long enough to say all he had to say, " she said.
"He was an incredible character, funny and charming," she added.
Ms Spreafico, who is from Shropshire, said the family had newspaper clippings about her uncle, as well as all the books he had written.
Mr Burn's wife, Mary Booker, died in 1974. The couple did not have any children.
Of the film on her uncle's life Ms Spreafico said: "The film should be out in the next six months, it's just a pity he didn't live to see it."