Major events' support scrutinised by Gwynedd council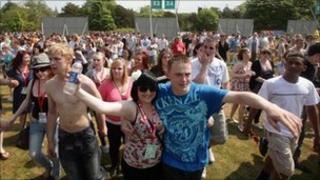 Gwynedd council is looking at ways to maximise the support it gives major events taking place in the county.
The development scrutiny committee will be told that in the past year a wide range of events have boosted the economy by around £9m.
The largest contributor was the BBC's Radio 1 Big Weekend with a £3.5m economic benefit.
However, about £1.5m was lost when the Faenol Festival was cancelled for the second year.
In her report Gwynedd council scrutiny committee head of economy and community development, Sioned E Williams, says that research shows major events can contribute towards the regeneration of an area.
"Small and major events can create vibrancy in communities and this excitement is key to the attempt to attract and retain young people in Gwynedd and to promote it as 'good place to live and venture'," she writes.
'Broad audience'
The council defines a major event as one that attracts "a broad audience from outside the Gwynedd catchment area" which provides opportunities for local businesses to benefit commercially.
People from outside the area tend to spend more, but smaller events are mentioned for their "utmost importance culturally" although the economic benefit is not on the same scale.
"By working to attract major events to Gwynedd we can maximise the additional tourism income, create business opportunities and raise awareness of the area and its characteristics on a national, British and international level," Ms Williams says in the report..
"It will also encourage growth in participation in the arts and sports," she added.
Recommendations include developing a framework for future events, working closely with event organisers, working with the Welsh Assembly Government's major events unit to attract events, and collaborate with other councils and tourism partnerships to attract, develop and support events.
Way forward
For the future the Faenol estate on the outskirts of Bangor - where the Radio 1 Big Weekend was held - is also seen as an ideal venue.
The estate was also home to Bryn Terfel's August Bank Holiday weekend Faenol Festival which was cancelled for the second consecutive year due to poor ticket sales.
"Gwynedd council had agreed to invest £25,000 to support the event that would have brought direct benefit of £1.5 m to the county's economy," said Ms Williams.
The report recommends that a meeting is arranged soon with Universal Music and the Faenol Festival Trust to "discuss the best way forward".