Rally car taken from Anglesey night before debut race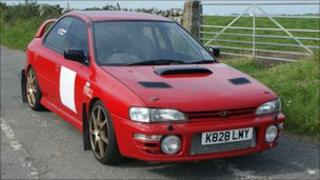 A rally driver who spent nine months adapting his car awoke to find it had been stolen during the night before its maiden race.
Phil Russell spent hours working on the car on the gravel drive of his home at Brynsiencyn, Anglesey, before taking it to Cheshire for a weekend race.
It was stolen from outside his hotel at Childer Thornton last Friday night.
Cheshire police are investigating the theft of the Subaru car, trailer and Ford Transit van.
Mr Russell knows that it was taken at 2337 BST on Friday because he has discovered that CCTV shows the thieves at work.
A keen rally driver for years, he decided to get the Subaru because he wanted to start "proper tarmac stage rallying".
Work on the car included modifying it to be rear-wheel driven.
"If someone drove it they'd know it had been adapted, and I've not seen another one like it," he said.
The theft was "professional" and he was not hopeful that the car would ever be returned, he added.
"It was not an opportunist theft," he said.
A spokesman for Cheshire Police confirmed they are investigating the incident.
"The vehicles were stolen between September 10 and September 11 and we are looking at the matter," he added.
The registration number of the stolen car is K828 LMY and at the time it was taken it had the number 67 marked on the driver and passenger doors.