Ysbyty Gwynedd cancer unit under review 'won't close'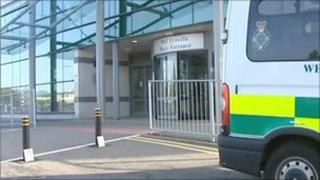 North Wales health chiefs are looking at the future of the Alaw cancer unit in Ysbyty Gwynedd, Bangor, as part of a wider review.
But Betsi Cadwaladr Health Board says the unit will not be closing.
The board is already reviewing maternity and child health care, and now cancer services are being examined as well.
Board members will meet on Wednesday to look at possible changes in the service due to "pressures on public finances".
The board has spent the past year since it was set up bringing together health care into what it calls clinical programme groups and is looking at each in turn to see if they are the best way of being run.
BBC Wales has been told the cancer clinical programme group is the latest to be examined, and the review is at a very early stage.
Meanwhile, the maternity and child health review is more advanced and its report is due in November.
A spokesperson for the board said: "We would like confirm that the Alaw unit at Ysbyty Gwynedd is not closing.
'One of many options'
"However, with the pressures on public finances and the need to maintain safety, the health board is reviewing many of its services to ensure they can continue to provide safe and effective care for patients across north Wales and the service provision in the Alaw Unit is one of the many options being discussed with staff."
Carol Williams, a deputy chief officer with the Betsi Cadawaldr Community Health Council - an independent statutory organisation which represents the interests of patients and the public in the National Health Service in North Wales - said it was a concern because the public needed to be informed of "every discussion and at every stage".
She added that the health board needed to do more than simply talk to their staff about possible changes to services, but also needed to communicate with the public.
Wednesday's health board meeting - which is open to the public - will be held at 1400 BST in the Migneint Room, Glasdir, Plas y Dref, Llanrwst.