Conwy teacher leaves 'treasure trove' museum to charity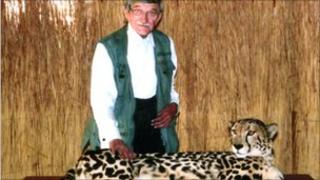 The contents of a private museum built up by an antiquarian, scholar and author and a real life "Mr Chips" are going under the hammer.
Fossils and ancient tools to World War II memorabilia were found at the Conwy home of Arthur Henry Stamp which was also the scene of a recent bomb scare.
A neighbour in Penrhyn Bay said Dr Stamp was "the nearest you'll get to Mr Chips" of film Goodbye Mr Chips fame.
The bachelor left everything to charity.
He died aged 88 last year and auctioneers were instructed to sell his house's contents.
Earlier this month police and bomb squad officers were called after a World War II bomb, grenade and a German gas canister were found hidden in a drawer.
Auctioneers also found a treasure trove of history in Dr Stamp's house.
There were fossils, Neolithic and Bronze Age arrow heads and tools, archaeological finds including Roman glass and jewellery, arms and armour, a thumb screw and cat o'nine tails and other torture instruments, and medieval manuscripts.
Also among the unusual finds were a chastity belt, cased insects, animal skulls, Victorian paraphernalia and memorabilia from the World War II.
Papers found at the private museum also reveal more about Dr Stamp the collector, whom his neighbour Bill Homewood also described as "a gentleman and a scholar but very defensive of his own self-contained private world".
"His museum was in an upstairs room and in the sitting room downstairs.
"He had display cases made. They were all around the room and he could talk at length about any of the things in them."
Mr Homewood said that when Dr Stamp, a research on the local residents' committee could not find a book about Penrhyn Bay's history, he wrote a 600-page volume himself.
"It took him two years on an old typewriter. It was published in 1996 and is still in great demand."
Arthur Henry Stamp was born in Llanrhos Road and went to Rydal School in Colwyn Bay and from there went to Oxbridge.
Later he embarked on what appears to have been a lifelong quest for knowledge and amassed 14 sets of letters to go beside his name.
He taught history at Glyndwr School in Rhyl and Cottingham School in Yorkshire and later lectured at Hull University.
He travelled extensively and wrote scores of books and booklets covering literary, historical and geographical subjects.
An ambition to visit the Galapagos Island in south America was achieved shortly before he died.
Former pupil Kay Johannsson, who spoke at his funeral, remembered how Dr Stamp he would bring in artefacts like chainmail and Tudor coins to illustrate his history lessons.
She said: "He made history live by bringing into the classroom real artefacts from the periods we were studying.
"Without a doubt, Dr Stamp was the most intelligent, interesting and intriguing person I have ever known."
More than 200 lots will be auctioned next Tuesday at Roger Jones in Colwyn Bay with the proceeds going to the charity Age UK.