Jobs pledge after village appeal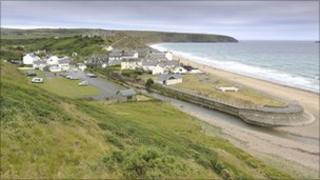 Seven new jobs could be created after the National Trust confirmed it has bought a holiday-let and car park in Aberdaron in Gwynedd.
An appeal to buy the village-centre property was launched in August.
The Trust said it intends to develop the site into an interpretive visitor centre to benefit the community and local economy.
A series of meetings is planned with the local community to discuss the ideas.
"We are delighted to have been able to buy Henfaes following an appeal, but we are still busy fundraising through the coastal Neptune appeal to enable essential conservation work and improvements in public access," said Richard Neale from the National Trust.
Mr Neale said the new site would allow the Trust to press on with plans to create a "centre of coastal tourism excellence" in partnership with the Aberdaron community.
Andy Godber, Llŷn operations manager with the National Trust added there was a commitment to making sure the site is used "appropriately to benefit the local community and the local economy."
He said the focal point would be an interpretive visitor centre to allow everyone to "learn about, explore and enjoy the natural environment, culture and history of this unique part of Wales".
The centre would directly create seven new jobs, and "numerous indirectly" and would add to the general visitor experience and enhance business in the village, he added.
"It will certainly be helped by the car park, which currently closes at 7pm, being available 24-hours a day, thus extending visitor time in the village and benefiting local businesses," he said.