Skeleton Blodwen is packed to go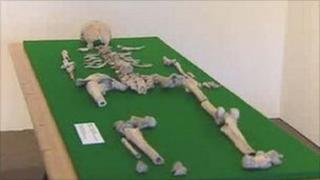 The bones of a Stone Age woman are to be returned to a museum in Bacup, Lancashire, after a summer on show at Llandudno.
Conwy council's museum service said it was disappointed as it had hoped they could keep the remains.
Blodwen, as the 5,500 year-old skeleton is known, was found by men quarrying on the Little Orme in 1891.
The skeleton was taken back to Lancashire, and put on show there.
"I'm deeply saddened to see her going," said Shirley Williams, Conwy council's museums education officer.
"It really hit me this morning as she is beginning to be packed up now," she added.
Ms Williams said a bid had gone to Lancashire for Blodwen to stay in Llandudno, but there had been a vote of five to four for her to be returned to Bacup.
"We will certainly be asking again though," Ms Williams said.
Despite her great age, Blodwen has revealed a lot of information about her life in Llandudno.
Scientists know she was five feet tall, and was used to carrying heavy weights.
She was aged between 54 and 63, was predominately a meat eater, had bad dental disease and arthritis in her back and knees.
"Also, interestingly, we think she had breast cancer," Ms Williams said.
Only one tooth remains but there is a way to find out even more.
"DNA would reveal where she came from," Ms Williams added.