Conwy and Denbighshire councils team up over pot holes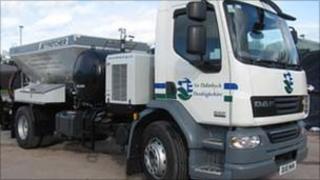 Two councils have joined forces to buy a £150,000 machine in their battle to keep on top of pot hole repairs.
Conwy and Denbighshire councils will also share the running costs of the "Jetpatcher".
The hope is the machine will also prevent pot holes, as it will patch up roads when the first cracks appear.
The machine takes a fraction of the time to repair roads, with trials suggesting the repairs last a number of years, said a spokesperson.
Last winter's weather left both councils with a backlog of damaged roads.
"Sharing equipment and processes ensures that we work more efficiently and provide a more cost-effective service to the residents of Conwy and Denbighshire," said Stuart Davies, the joint head of highways and infrastructure for both councils.
Denbighshire council said improving the highways network was one of its top four priorities.
Conwy's cabinet member on infrastructure, Councillor Joan Vaughan, said sharing equipment "is one of the very tangible benefits of collaborative working".
"Both counties will clearly benefit... it will have a real impact on our maintenance work," she added.