Anti-violence scheme in Llandudno is extended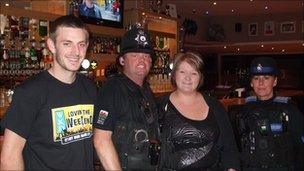 A high-visibility police scheme in Llandudno which resulted in the number of serious incidents of violence reduced to zero is being extended.
Each weekend during the summer, North Wales Police officers called at every pub, club and bar, to speak to licencees and door staff.
Following the success of the scheme, the force's Operation Filli will now carry on until Christmas.
Police said the aim was to stop violence before it started.
Insp Ian Verburg said previous figures showed a "bit of a peak" and also suggested that incidents were widespread within the town.
"We decided to have two officers on high visibility, one with a head camera, working every Friday and Saturday dedicated to Op Filli," he said.
"They would work from 7pm to 3am starting at the top of town and calling in at every licensed premises, speaking to door staff and licensees."
As well as preventing violence, it was also taken as an opportunity to check licencees were staying within the terms of their licences.
"In essence it was trying to prevent any violence before it started," Insp Verburg said.
"Before the operation started I was a bit wary and thought some licensees might not accept it. To my surprise they absolutely loved it."
Sam Bridge, the manager of Club 147 and secretary of the town's Pubwatch scheme, said it was nice to have "personal interaction" with the officers.
"The door staff really enjoyed getting in touch with the officers directly instead of going through many channels - that sort of speed was fantastic," she added.
Pubwatch members also said it was an extra way to spread information and get everyone to work together, she added.
Ch Insp Andy Williams said during the 12 weeks the scheme ran over the summer, there were no reports of serious violence.
"The public can have confidence that we will now build upon this clearly successful operation with a view to making it part of our routine business throughout Conwy and Denbighshire," he said.
Related Internet Links
The BBC is not responsible for the content of external sites.