Funding needed to repair Llanfairfechan sea wall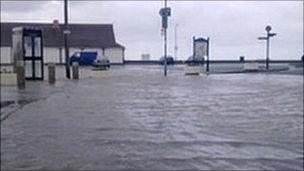 More money is needed to repair a sea wall damaged when it was battered by waves during storms earlier this year.
Homes at Llanfairfechan, Conwy county, were flooded in March, and residents fear a repeat unless more is done.
A local councillor who lives in the area said the Holyhead-London railway line was also at risk.
A Conwy council spokesman said repairs, which would cost around £363,000, were in the pipeline but were subject to "funding and relevant approvals".
Dyfed Rowlands, the council's environment manager said: "The majority of coastal repairs have now been completed.
"Storm damage repair costs are in the region of £363k.
"Further works are planned in Llanfairfechan to repair a breach in the sea wall, and for flood resilient measures to protect properties from flooding.
"We're looking at various options to reduce the risk of flooding to properties in the area. Options include providing demountable defences or extending the secondary sea wall."
He added that further funding would need to be sought to carry out the flood resilience measures along the promenade, which are currently being developed.
County and town councillor Andrew Hinchliff said he was worried about possible flooding in the area over the winter months.
"I'm extremely concerned. At first, it was just a crack. It's now 50 yards of damage," he said.
"The main hole is about 20 yards but there's cracking a considerable distance either side. I'm concerned for properties nearby."
Mr Hinchliff, who lives in one of the homes that could be threatened, added: "The railway line is only across the field and the land is very low so if it gets through, it would threaten the [Holyhead-London] railway line."
Related Internet Links
The BBC is not responsible for the content of external sites.