Loose rock in fatal Ogwen Valley mountain fall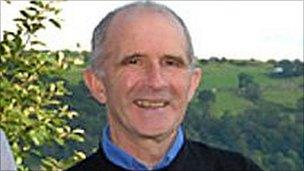 An experienced mountaineer fell 300ft (90m) to his death after a hand or foot hold probably gave way, an inquest has heard.
Rhys Llywelyn ap Gwent, 60, from Llanuwchllyn near Bala was on a 'scramble' in the Ogwen Valley in May when he fell.
Mountain guide Andy Teesdale told the Dolgellau hearing a very cold winter had led to loose rocks in the area.
A verdict of accidental death was recorded.
Mr Teesdale said he heard rock hitting rock and that led him to think that a hand or foot hold had become lose.
Ogwen Valley Mountain Rescue team member John Hulse investigated the area after Mr ap Gwent fell.
He supported the theory of a foot or hand hold coming away from the rock-face.
Mr ap Gwent was on the mountain with Clwb Mynydda Cymru (Welsh Mountaineering Club) when he fell.
Fellow member Morfydd Ellen Thomas from Bethel, Caernarfon, said Mr ap Gwent had moved away from the group and decided on an easier route but without ropes.
After realising her companion had fallen Ms Thomas went down to him.
He asked her, in Welsh, "Be sydd wedi digwydd i mi Morfydd?" (What has happened to me Morfydd?).
North Wales Coroner Dewi Pritchard Jones asked if he had indicated what had happened, but she said he had not.
Mr ap Gwent was airlifted to hospital where he died.
Pathologist Dr Anthony Caslin said the cause of death was multiple injuries consistent with a fall from height.
The coroner said he agreed the most likely theory was that Mr ap Gwent fell to his death as a result of a lose hand or foot hold and returned a verdict of accidental death.
After his death in May, Dwyfor Meirionnydd MP Elfyn Llwyd said Mr ap Gwent had worked tirelessly in their home community near Bala, and would be "missed terribly".