£5.5m to renovate Colwyn Bay pier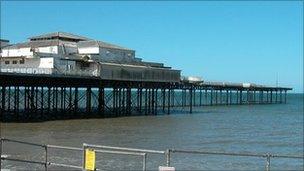 A structural report has revealed it could cost about £5.5m to restore the Victorian pier in Colwyn Bay.
Representatives of various bodies including Conwy council and the Pier Pressure Group have decided to work together to obtain funding.
Clwyd West MP David Jones urged the council to take urgent action "about safety concerns raised in the report".
Ownership of the 110-year-old pier is still with insolvency trustees.
The results of the structural appraisal of the pier were presented to the Colwyn Pier Task and Finish Group by consulting engineers Posford Datrys.
Council officers and councillors were joined by representatives of the Pier Pressure Group, the insolvency trustee and Welsh Assembly Government to hear the details.
Issues of ownership, work required, and how to obtain funding for the restoration were all discussed.
"I'm very pleased to report that we had a very constructive and positive meeting," said Conwy councillor Brian Cossey.
"We're moving forward, considering the funding options and the potential of a sustainable business model," he added.
Local MP David Jones said urgent action needed to be taken.
He said: "I'm particularly concerned about the condition of the pier which it seems to me to amount to potentially a danger to the public."