Hopes raised for future of Theatr Harlech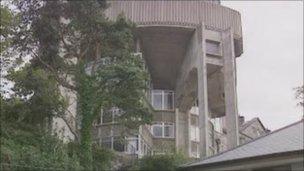 The board of a Gwynedd theatre which lost £70,000 in funding earlier this year says it is working towards keeping the venue open.
The future of Theatr Harlech was called into question after it was announced in August that its four full-time employees were to lose their jobs.
Director Jacqui Banks said the board was "confident" of finding an answer.
The board was due to attend a public meeting on Monday held by campaigners fighting to save the theatre.
Dr David Naylor of the Save Theatr Harlech campaign said the meeting had been arranged because there had been no public statements on the future of the theatre beyond notice of the job losses.
"We want two things from this meeting," said Dr Naylor. "We want the board to fully appreciate the strength of the feeling among the community that we want Theatr Harlech to continue.
"We also want to find out what's going on."
Speaking ahead of the meeting Ms Banks, the theatre's interim director, confirmed that two full-time staff at the theatre would be made redundant in December.
She said that two more, including herself, would be leaving their posts when their contracts ended.
Despite this she added: "The board's intention is that the theatre will remain open but it is unlikely to be able to maintain the same level of programming.
"Obviously as the theatre has lost over £70,000 in funding it will be difficult.
"But our intention is that there will be things going on in Theatr Harlech beyond Christmastime and for the foreseeable future."
Ms Banks explained that all the board's energy had been put into a lottery bid for a scheme - the Constellation Programme - to bring professional and community arts to towns and villages across Gwynedd.
Now, she said, the board's energy would be turned towards keeping the theatre itself going.
"We are working on it, and are confident that we will find an answer," she said.
"We should be in a position to talk more about it in a few weeks' time."
The theatre lost its funding in June from the Arts Council of Wales, which reviewed its spending on arts groups.
Related Internet Links
The BBC is not responsible for the content of external sites.