Man rescued after clinging to upturned kayak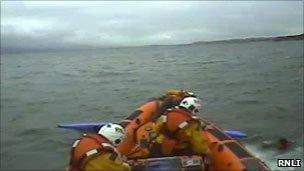 A man hung on to his upturned kayak in the sea off Anglesey for 25 minutes before being rescued by coastguards.
He was picked up by the Beaumaris lifeboat and taken back to shore, where he was treated by paramedics.
A member of the public raised the alarm after the man, in his 30s, capsized off Penmon Point just before 1420 BST.
His lifejacket failed to inflate, leaving him clinging to his kayak until crews from Beaumaris Inshore Lifeboat team and Penmon coastguard launched.
The rescue took place 500 yards off Puffin Island.
Holyhead coastguard said the man, from Liverpool, was struggling to get back into his kayak.