Plan to secure Theatr Harlech's future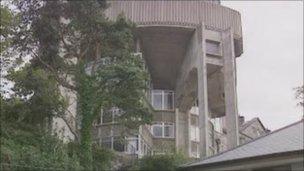 New plans have been unveiled to try to secure the future of a theatre which lost £70,000 in funding.
The future of Theatr Harlech in Gwynedd was called into question after it was announced in August that its four full-time employees were to lose their jobs.
The management board of the venue put forward a new plan at a public meeting in front of 130 people on Monday night.
This would involve far fewer performances at the theatre itself but more in the community.
The proposal would need the backing of the Arts Council of Wales.
The management board will not know until the middle of next month if its £55,000 grant bid has been approved.
Many of those who attended the public meeting were against any reduction in the number of performances at the theatre and were critical of the management board and the arts council.
The Arts Council of Wales had said in the summer that it would end its £70,000 contribution to Theatr Harlech following a review of its spending on arts groups.
The money was used to pay staff and for the running costs of the office.
Before Monday's meeting, interim director Jacqui Banks had said the board was confident of finding an answer to keep the venue open.
She said the board's intention was for the theatre to remain open but it was unlikely to be able to maintain the same level of programming.
"Obviously as the theatre has lost over £70,000 in funding it will be difficult," she said.
"But our intention is that there will be things going on in Theatr Harlech beyond Christmastime and for the foreseeable future."
Related Internet Links
The BBC is not responsible for the content of external sites.