Appeal over Gwynedd place which inspired artist Vosper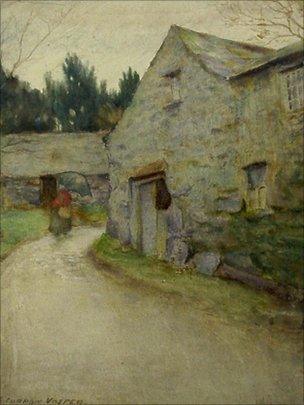 A rainy day in Wales more than 100 years ago inspired Edwardian landscape artist Sydney Curnow Vosper.
But a man who inherited his watercolour wants to know exactly where he was when he painted it.
Jolyon Goodman, from Dorset, believes 'Wet Day' must be one of a series by the artist in the Ardudwy area of Gwynedd.
Sydney Curnow Vosper is best known for his depiction of "Salem" in 1908.
Mr Goodman's great aunt worked as a nanny to the artist's two children after their mother died when they were young.
"Wet Day" came to him from his grandfather - the nanny's brother - who was friends with the artist.
It is not known whether the 21cm x 18cm (8ins x 7ins) watercolour was bought from the artist or received as a gift.
"From the stones, and the slate, it's somewhere near Ardudwy, and I'd dearly like to know where it is," said Mr Goodman.
Whilst looking into the painting's history, Mr Goodman has come across other pieces of the artist's work which were based in north Wales.
The locations of all, apart from one other, have been found.
"There's another work, the basket maker - and it's got to be in that area..." he said.
"There's no clear indication what the basket is for either, and I'd like to know that too," he added.
All the north Wales-based paintings seem to have been painted between 1900 and 1910, he said.
Mr Goodman added the artist did not visit the area after that time because his wife died.
The painting shows a country lane with a building on the right.
Another building is seen on a bend as the lane runs slightly uphill, near where a woman is seen hunched against the rain under an umbrella.
"I try not to be too hopeful (about finding the building) but hopefully if the road is still used there is a chance the building will still be there," Mr Goodman added.
Sydney Curnow Vosper was born in Plymouth in 1866. In 1902 he married Constance James, the daughter of a solicitor in Merthyr Tydfil, which led to a wider association with Wales in his art.
His most famous work, Salem, shows an old woman in Welsh national costume attending a service at Salem Chapel, Cefncymerau.
The Salem painting hangs in the Lady Lever Gallery at Port Sunlight on the Wirral.
Lord Leverhulme, who owned Sunlight soap, bought the original for 100 guineas and offered free reproductions to anyone who bought £7 of soap.
Salem chapel is open to the public and people make the pilgrimage from all over Wales to see the scene of the painting.
A paisley shawl, similar to the one featured in the painting, is available and visitors often re-enact the scene.
Chapel secretary Miss Catherine Richards has been a member congregation for 62 years.
She, and her sister Elisabeth, are two of the five remaining chapel members.
"When the painting celebrated its 100th birthday we had a lot of visitors," Miss Richards said.
"Things have quietened down now because people have less money to travel here on coach trips, but we still get individuals coming here because they leave comments in the book," she added.
Related Internet Links
The BBC is not responsible for the content of external sites.