Steam train and van in collision near Porthmadog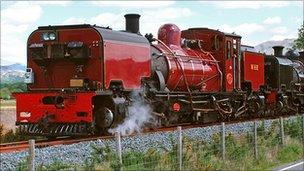 A narrow gauge train has been in collision with a van on an open crossing in Gwynedd, say police.
The Ffestiniog and Welsh Highland Railway train was travelling from Pont Croesor to Caernarfon when the incident occurred at Ynysfor.
Around 100 passengers were on the 1212 BST train at the time but no one was injured, said North Wales Police.
The Rail Accident Investigation Branch has been informed about the incident which caused an hour's timetable delay.
Paul Lewin of the Ffestiniog and Welsh Highland Railway said: "One bolt was scratched on the loco and the side panel of the van was damaged.
"It appears that the train clipped the front of the van."
Popular with tourists, the Ffestiniog & Welsh Highland Railways are two narrow gauge railways, both operated by the Ffestiniog Railway Company.
The Ffestiniog Railway runs from Porthmadog to Blaenau Ffestiniog, while the Welsh Highland Railway currently runs from Caernarfon to Pont Croesor.
An extension from Pont Croesor to Porthmadog is expected to be completed next year.
Related Internet Links
The BBC is not responsible for the content of external sites.