20,000 euros seized at town port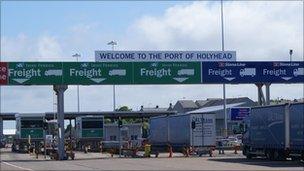 Cash totalling 20,000 euros has been seized from a Kosovan man at Holyhead port on Anglesey.
The seizure, by the UK Border Agency, was carried out under the Proceeds of Crime Act after they questioned the man who arrived from Dublin, Ireland, on 15 October.
The 28-year-old man was carrying the cash - in 50 euro notes - in the glove compartment of his car.
Officials believed his reason for carrying the cash lacked credibility.
He had told officers he was en route to Kosovo to pay for repairs to a vehicle which his father had crashed.
They estimated that the entire value of the vehicle was less than the 20,000 euros he was carrying however.
"Where our officers suspect that cash may be linked with criminal activity, we have the power to seize," said Bob Lyne, the Border Agency Assistant Director for Wales.
"It will only be handed back if it is later proved to be legitimate," he added.
On Monday Caernarfon magistrates court granted the UK Border Agency continue detention of the cash.
Related Internet Links
The BBC is not responsible for the content of external sites.