Plan for £2.4m facelift for Caernarfon centre on show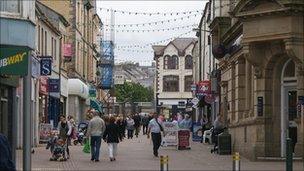 Details of a £2.4m scheme to improve Caernarfon town centre are going on show.
Work planned includes pavement widening, installing a new taxi rank and improving road surfaces.
Gwynedd council says the changes will make it easier to get into the town, and around it.
The plans can be seen on the Maes on Friday and Saturday between 1100 to 1600 BST. The first phase of the work will begin in Bridge Street in January.
Councillor Gareth Roberts, who leads on the environment for Gwynedd council, said the plans were part of "exciting times" for the town.
"We are confident that the series of improvements, which will be on display on the Maes on Friday and Saturday, will provide a real boost for the town," he said.
"Work has already been completed on one aspect of the improvements with the new electronic signs which are in place making it easier for motorists to find parking spaces in the town's car parks," he added.
The changes would also make it easier for people to get around the town on foot and by car, he said.
"These changes will help to reinforce the message that Caernarfon is a fantastic place to visit," he added.
Feedback on what was needed in the town centre was gathered from residents and local businesses as part of two previous consultation events, and they will also be given a chance to comment on the current plans.
Newly elected Gwynedd councillor Endaf Cooke, also owns a fish and chip business in the town centre, welcomed the changes and acknowledged the "hard work" which had been done by a steering group.
"It is difficult to please everyone 100% of the time, but I think there is good future ahead of Caernarfon thanks to these plans," he said.
"People have been asked what they want and the group has come up with three to four different options, and residents can again comment on which they prefer," he added.
Mr Cooke said he had been in business in the town for 13 years and was passionate about getting the town back on its feet.
"The place was doing quite well until the credit crunch came and things altered and it has become run down," he said.
He added that the council had got together with the local community and made the best of what was available.
"We can't change some things, such as the one way system, because the money is just not there," he said.
"This will improve the town, then we need to attract a mix of businesses here, and to sell the place as the historical royal town it is," he added.
Related Internet Links
The BBC is not responsible for the content of external sites.